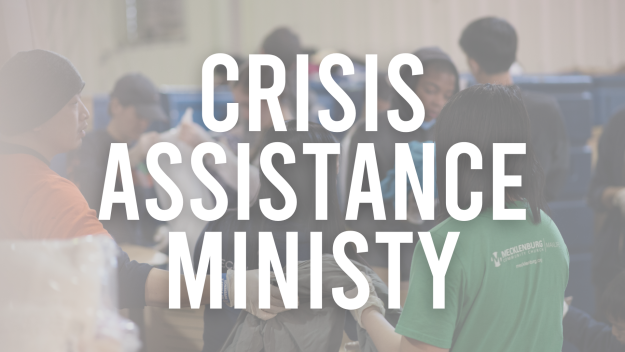 Crisis Assistance Ministry Serve Day
Second Saturday, from 03/12/2022 to 12/10/2022, 9:00 AM - 11:00 AM
As of February 2022, Crisis Assistance Ministry requires that all volunteers be fully vaccinated and show their vaccination card (or a photo of their vaccination card) upon arrival to serve. Per the CDC, the definition of fully vaccinated has not changed and does not include the booster shot. Everyone is still considered fully vaccinated two weeks after their second dose in a two-shot series, such as the Pfizer-BioNTech or Moderna vaccines, or two weeks after a single-dose vaccine, such as the J&J/Janssen vaccine.
Crisis Assistance Ministry is the community's emergency room for families facing financial crisis who have nowhere else to turn. The assistance they receive prevents homelessness and loss of utilities. Come be a part of serving on the local mission field in Charlotte!
Join us helping to serve the working poor in Charlotte as well as meeting other Meck members and attenders!
The address for Crisis Assistance Ministry is:
500-A Spratt Street
Charlotte, NC 28206
704.371.3001
You must wear closed-toed shoes for this serve day! Please meet at the Spratt Street location and arrive by 8:50 a.m. in order to gather as a team at the volunteer entrance.
The minimum age for serving with Crisis is 11 years old, and the group cap for this serve day is 15 people.
REGISTER BELOW: